Digital Cinema Network (DCN) is a regional cinema chain that operates autonomous cinemas in regional locations that typically cannot afford to operate small cinemas.  Utilising intellectual property developed by a partner company, digitAll,  to allow it to automate and share resources in the operation of the location. DCN's focus is to bring cinema to locations traditionally inaccessible by a traditionally run cinema.
ClubMovie
Clubmovie is the public-facing name of the cinemas DCN operates.  Located in Forbes, Corowa and Hervey Bay, DCN works with pre-existing entertainment complexes, offering a cinema experience.  This greatly enhances the appeal of the location making it a social center for the town.  This results in a significant lift in foot traffic and benefits businesses surrounding the cinema.  DCN is happy to talk if you see any synergy in partnering with us in your entertainment locations.
Cinema IT and support services.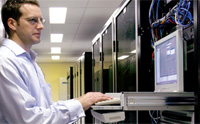 As DCN is the only Australian company to develop cinema-centric tools utilised in many locations around the world, we are well suited to offer support services in cinema IT and connected technologies in Australia.  If you would like DCN to consult of help upgrade your cinema network infrastructure and capabilities, please give us a call.